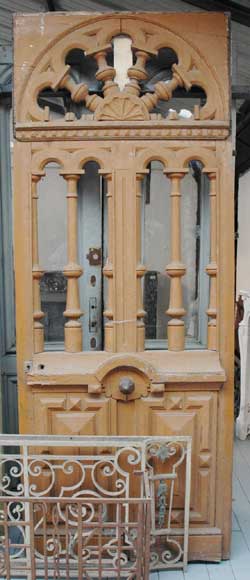 Style Neo-Renaissance / Ref.0902
Front door
Dimensions:
Width: 37'' 94cm
Height: 94'' ½ 240cm
Origin:
Late 19th century.
Status:
General good condtion.
A very unusual Neo-Renaissance style door, with an impressive decor on the windows, which was inspired by Medieval Italian art. The lower part is decorated with relief diamond shaped panels.
In the middle of the door there is a window-like structure of two double arches, seperated by columns. Typically found in Middle Age Italian architecture and early Renaissance architecture.
The top of the door adopts the same style, with a column and arch, adapted to a wheel shaped semi-circle.
The centre of the door is decorated with a door handle.
Made out of softwood.
Informations
Export certificate:
Available