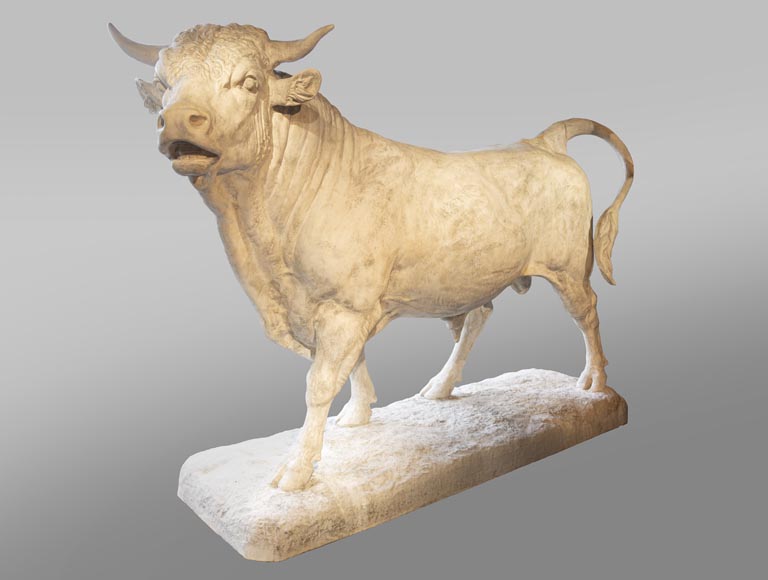 Isidore Jules BONHEUR (1827-1901) - Important plaster sculpture representing a bull (Ref.12000)
Sold item
Origin:
France, 19th century
Condition:
Good condition.
Dimensions:
Width: 113'' 287cm
Height: 78'' 198cm
Depth: 35'' 89cm
This monumental sculpture put on a base depicts a bull on the move in a very realistic way. Standing and walking, its head is up and turned to the left, its tail is also doing a move in the same direction. Isidore Bonheur, known for its realistic sculptures of animals, gives here a remarkable job for the finish of the body. Indeed, we quickly notice the impressive musculature especially for the thigh, the skin wrinkles around the neck and the hair finely chiseled of the tail, the forehead and the ears. It's really in the head's realization that the artist's talent manifests itself, through the big eyes protected by prominent eyelids and the muzzle's movement which spreads the nostrils and opens the mouth, all of the bull expressivity lies here. This plaster is the role-model for the cast iron, this also explains the numerous details sculpted by the artist. As they would loose a little bit of their quality after the molding, they need to be the finest possible on the mould. It's also to facilitate the molding that the base and the tail are separated from the rest.
Initially exhibited during the Salon of 1865 in Paris, this plaster was used as a model for one of the two cast iron Bulls created by the French sculptor Isidore Bonheur. They were exhibited on the champ de Mars during the Universal Exhibition of 1878, one is identical to our sculpture, the other one has its head down and charges.

Isidore Jules Bonheur (1827-1901)
Sculptor and painter born in Bordeaux in 1827, Isidore Jules Bonheur is the third child of the painter Raymond Bonheur (1796 – 1849) and the brother of the painter Rosa Bonheur. It's thanks to this two people that Isidore Bonheur received a first artistic apprenticeship before getting to the Ecole des Beaux-Arts in Paris in 1849. He started by practicing painting before choosing to sculpt animals. A lot of his works of art are now in museums, in particularly in Bordeaux, Warsaw in Poland or even in the United-States, but it's mainly in the Orsay museum in Paris that we can find the major part of his sculptures. All along his artistic career he obtained a lot of rewards, like a medal for the exhibition of our plaster during the Salon of 1865.
Follow this link to read our blog article dedicated to this important bull.
Price: on request
Previous Monthly Columns :